Population Assessment of World's Snow Leopards To Be Launched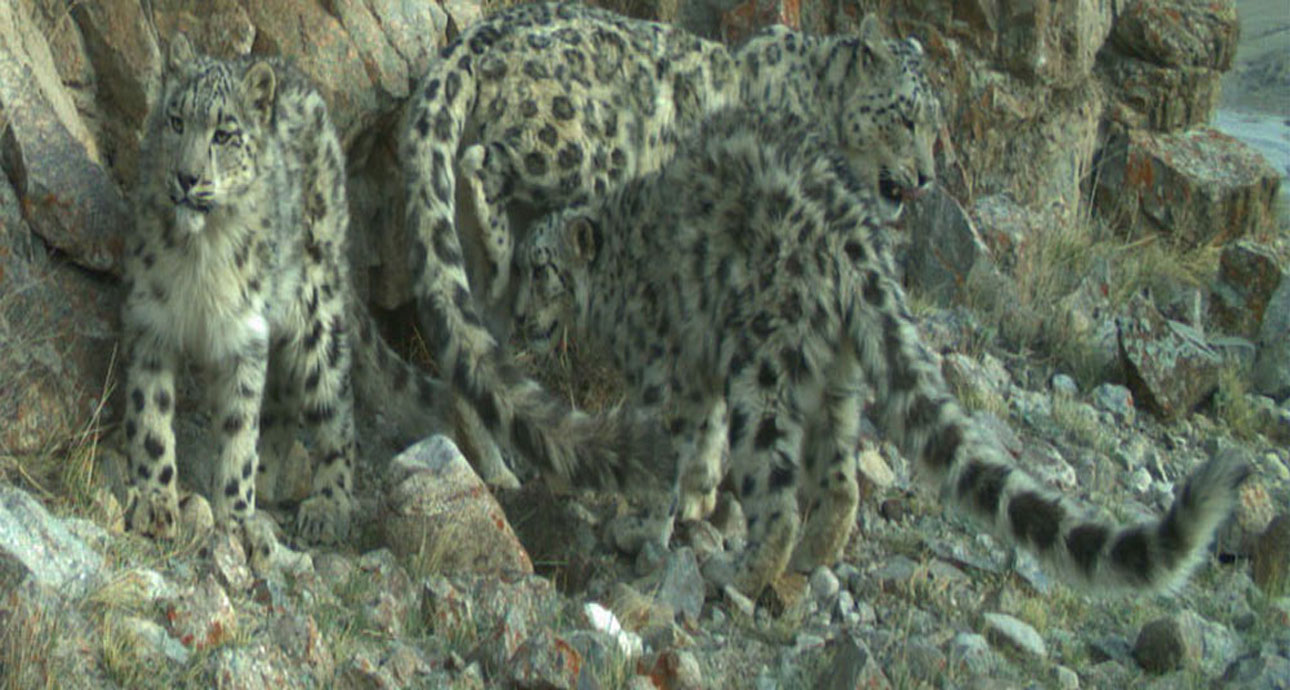 Joint initiative of range countries, conservationists and academics will result in the first scientifically robust estimate of the global snow leopard population.
Press release, March 22, 2018
It is unknown how many snow leopards truly remain in the world, and existing estimates are fraught with uncertainties. Range country governments and scientists are now launching an ambitious initiative to develop a robust assessment of the global snow leopard population within the next five years.
Despite decades of research, robust population estimates about the species are available only from habitat patches cumulatively covering less than 2% of their entire distribution range. These patches tend to be biased towards best habitats, which limits the reliability of projections about the global population.
Recognizing this, governments of all snow leopard range countries have strongly emphasized the need for more robust and expansive monitoring of snow leopard populations across the cat's range.
As most of the world's possible snow leopard range has never been surveyed, we may have already lost important populations and habitats we aren't aware of – and we may be losing more right now. PAWS will be a key tool to help identifying priority areas for future conservation investment.
At the International Snow Leopard and Ecosystem Conservation Forum 2017 in Bishkek, the range country governments formally endorsed a plan to develop a global snow leopard population assessment. The ambitious initiative, called PAWS (Population Assessment of the World's Snow Leopards), aims to produce a robust estimate of the threatened cat's population status within the next 5 years.
PAWS has the support of a broad coalition of snow leopard conservation organizations and academic institutions.
It will be overseen by the Steering Committee of the Global Snow Leopard & Ecosystem Protection Program (GSLEP), comprised on the Environment Ministers of all twelve snow leopard countries.
"The continuing gap in knowledge about the status of the snow leopard populations is concerning. It is about time that we take up scientifically sound initiatives for population assessment of the world's snow leopards through this collaborative effort between range countries and partner organizations. Together, I believe we will not only be able to estimate the world's snow leopard populations, but also to protect them", says Mr. Wali Modaqiq, Deputy Director General at the National Environmental Protection Agency and GSLEP National Focal Point of Afghanistan.
A panel of leading statisticians, ecologists and conservationists as well as technical experts from range country governments will provide technical guidance and support with the study design and data analysis.Members of this panel include:
Prof. David Borchers, Head-Statistics, Centre for Research in Ecological and Environmental Monitoring, University of St. Andrews, Scotland, UK (Co-Chair)
Prof. Lu Zhi, Centre for Nature and Society, Peking University and Steering Committee Chairperson, Snow Leopard Network (Co-Chair)
Mr. Ashiq Ahmad Khan, former Steering Committee Chairperson, Snow Leopard Network
Dr. Charudutt Mishra, Science and Conservation Director, Snow Leopard Trust, Senior Scientist, Nature Conservation Foundation, and Executive Director, Snow Leopard Network
Dr. Chris Sutherland, Assistant Professor, Department of Environmental Conservation, University of Massachusetts-Amherst, USA
Dr. James Nichols, Scientist Emeritus, United States Geological Survey, USA
Dr. Sandro Lovari, University of Sienna, Italy and Steering Committee Member, Snow Leopard Network
Dr. Som Ale, Clinical Assistant Professor, Biological Sciences, University of Illinois and member, Snow Leopard Network
Dr. Thomas McCarthy, Head, Snow Leopard Program, Panthera
Mr. Wali Modaqiq, Deputy Director General, National Environment Protection Agency and GSLEP National Focal Point, Afghanistan
The on-the-ground data collection and analysis will be done by various conservation organizations, government bodies and academic institutions working across the different habitat zones and countries.
"Along with all twelve range countries, almost all the major international and national nongovernmental organizations interested in snow leopard conservation are on board for PAWS, as are leading researchers from various academic institutions", says Dr. Koustubh Sharma, the International Coordinator for the GSLEP Secretariat. "This means we'll have access to the expertise and resources of an extremely broad coalition. And, most importantly, it also means we will be able to develop a population assessment everybody agrees on."
Organizations that have attended an initial workshop on PAWS organized by the GLSEP program include:
American University of Central Asia (Kyrgyzstan)
NABU (international)
Nature Conservation Foundation (India)
National Trust for Nature Conservation (Nepal)
Panthera (international)
Patuxent Research Center, United States Geological Survey (USA)
Peking University (China)
Shan Shui (China)
Snow Leopard Conservancy (international)
Snow Leopard Conservation Foundation (Mongolia)
Snow Leopard Foundation (Kyrgyzstan)
Snow Leopard Foundation (Pakistan)
Snow Leopard Trust (international)
Society for Conservation Biology Asia Section (Asia)
University of St. Andrews (Scotland)
University of Massachusetts (USA)
University of Central Asia (Kyrgyzstan)
Wildlife Conservation Society (international)
WWF (international)
In the coming months, other organizations and institutions from across snow leopard range are likely to join the effort.
The detailed study design will be worked out in the coming months, and extensive trainings for field staff as well as data managers are planned for later this year. Data collection and analysis at pilot sites are scheduled for 2019, and these processes – if they are found to be adequate for the task – should be rolled out across the snow leopard range in 2020 and 2021.
"The goal is to have a robust global population estimate by 2022 at the latest", says Koustubh Sharma.